I don't normally post my newsletters here, but this one (and probably the next one) are worth sharing.
---
Recently I've been reading through the book of Isaiah again. There are a number of notable passages in there that God has highlighted to me in the past–always at times of change in life and ministry. Each passage, come to think of it, seems to have represented something of a commissioning by God Himself for some next thing.
Before I went into missionary training on my way to London in my twenties, it was Isaiah 55:5. After I returned, a newly minted but God-disappointed thirty-year-old, it was Isaiah 54:1-5. Since I've been reading the whole book, I've had occasion to reminisce and meditate on those passages again, and to be encouraged at what God has done since then. But last week the passage that stood out with extra significance was Isaiah 61:1-4.
The Manifesto
I wasn't unfamiliar with it. After all, it's what Jesus preached on (in possibly the shortest sermon ever) in Nazareth. It was, I've heard it said, His manifesto. It occurred to me this time that in that case, it should in some way be the manifesto of every Jesus-follower. I mean, if the idea is to become like Him.
The way any one of us fulfills that manifesto will, of course, look different depending on our personalities and skillsets and, doubtless, spiritual gifts. But proclaiming news that poor people find good, holding the pieces of people's broken hearts, freeing those enslaved or imprisoned in whatever form, should be the underlying impetus for what we do, especially when we put Jesus' name on it.
The next thing that occurred to me with astonishment is that Jesus is doing that very thing through the Pilgrimage. A lot of broken-hearted people make their way here. Many of our hearts are broken because they've been held captive or enslaved by people or organizations that should have been safe and life-giving. Your partnership with the Pilgrimage through prayer and giving is enabling Jesus' manifesto to play out in the margins, just like He did.
Messages from the Listening Post
Turns out there are numerous people who have experienced the Bible as a weapon–not to "dividing soul from spirit, joints from marrow," but used against them. It makes it hard for them to want to read it anymore…but twelve of us meet twice a month to do just that in spite of it. One participant says,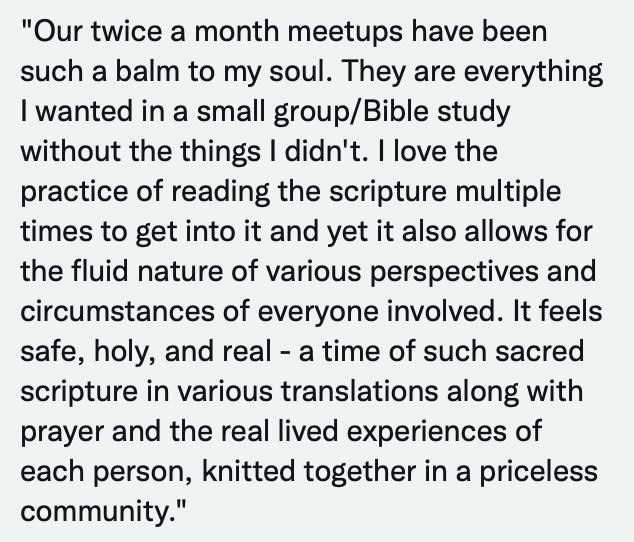 Stepping Into the Story
Mike took SITS this spring, and the day we concluded the course, he tweeted

He also wrote each of us concluding blessing-poems. Here's the one he wrote for me: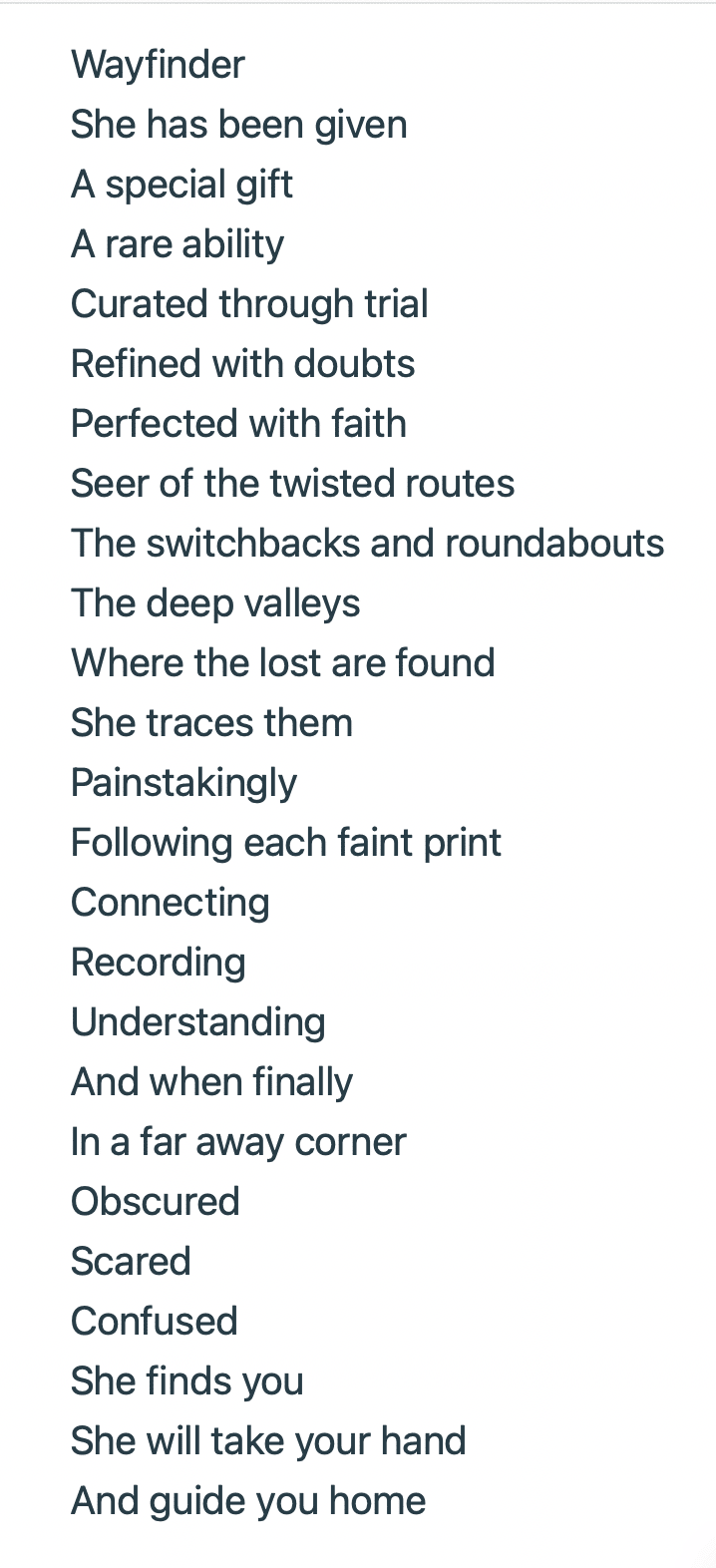 I share this not as a brag, but with a sense of wonder that God has given us this way of fulfilling Jesus' manifesto together.
Partnering with You
The Pilgrimage is facing a few of its own switchbacks and roundabouts–not bad ones, but what I believe is the road to growth. In a few weeks I should be able to get more specific. In the meantime, I need to resume some intentional financial support-raising. The Pilgrimage needs to be a bit more financially stable to move forward, so that we can continue to do this freeing, good-news work.
If you're already a Pilgrimage Outfitter, thank you so much for your faithfulness and generosity. I've been slowly but surely trying to reach out to each of you personally to chat about what's new and upcoming at the Pilgrimage. (Also, I'd really just love to hear what's the latest with you. The conversations I've had so far have been absolutely lovely.)
If you aren't yet, I'd love to partner with you. I know these are financially challenging times for us all, and to be honest I don't love asking for money…but I do love interacting with you and doing Jesus-work together. It would be such a delight to team up here. If you are equally excited about that idea, please let me know! I'd love to talk more about the Pilgrimage. If you want to get started before we even get a chance to talk, please click the button below.
Thank you for your care, partnership, and prayers. Please stay tuned for more news in a couple of weeks.